back to hikes and climbs back to Locations and Travel
Attempt on Azhdahak

Summary: October is not the best time to climb high mountains in Armenia, but I had work to do and so we gave it a try. Our aim was Azhdahak, one of the high (3597 meters), but not difficult mountains near Yerevan, and part of the Geghama range. Azhdahak is not a sharp peak. The slopes of Azhdahak are inhabited in summer by shepherds, and there are some faint 4WD tracks.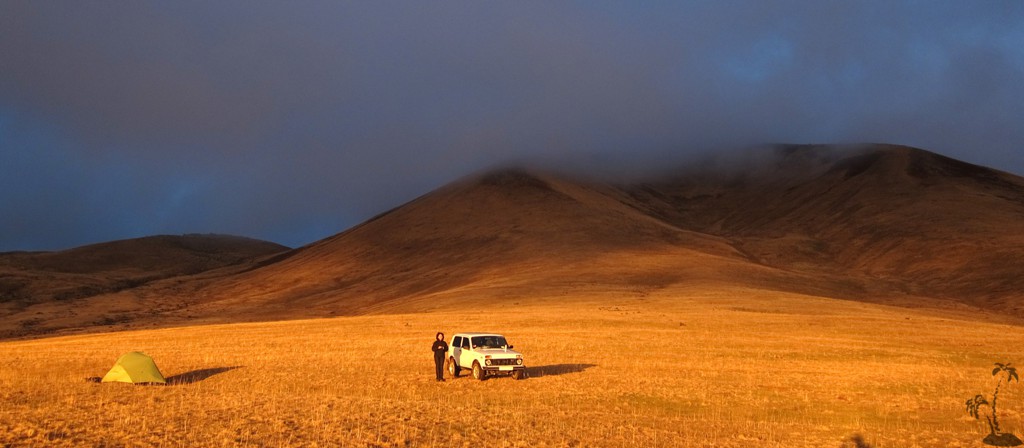 We rented a Lada Niva, arguably the best-suited care for this terrain. It was an old car, and the engine was tired, but it managed very well even in difficult rocky passages.
We selected a route starting from Geghard village (near the well known Geghard monastery), and reached an elevation of about 2900 meters where we planned to camp. The last few kilometer lead across pastures without a visible road.
One could see across the lights of Yerevan, and even Ararat showed for a few moments. Given good weather, the hike to the summit would normally be a breeze.
But it was getting cold and cloudy. During the night, snowfall set in and our 3-season tent bent down under the weight. At first light, we were engulfed in thick fog, with a prospect for more snow. With our bald summer tires on the Lada, the first order of the day was to get the car out of the snow back on a trail.
As it happened, we were late for one day, before the hiking season closed on Azhdahak.
Maximum altitude:
2930 meter
Minimum altitude:
1708 meter
Cumulative height:
1221 meter
Cumulative length:
16 kilometer one way
Difficulty
moderate, depending on the weather
Time:
1.5 hour
Date of this record
October 2014

Download GPS info:

Azhdahak trailhead
General location and approach: Central Armenia, between Yerevan and Lake Sevan
Other Information:
GPS and trailmaps: The map and trailinformation is generated by

, based on GPS information collected from the actual hike. Waypoints can be downloaded to a GPS device from Wikiloc. If necessary, use GPSBabel to convert GPS data to different formats. For more hike descriptions by Palmtreetreeproduction, browse this website or visit Wikiloc and search for "Palmtreeproduction". You may also find nearby trails from other authors.
Google Earth: You may also view the trail in 3D by clicking "view in Google Earth" when on Wikiloc. You need to have Google Earth installed on your computer.