Hikes and Climbs
Albania
We revamped our site on Albania. It now includes hikes and climbs, offroad adventures, archaeological and historic interest, other adevntures or just tips for visiting interesting places. For most hikes and trips, where needed, we have included google maps, specific trail information, and links to wikiloc.org where GPS coordinates can be downloaded to your GPS unit. Of course, images from each trip or site are there, as before.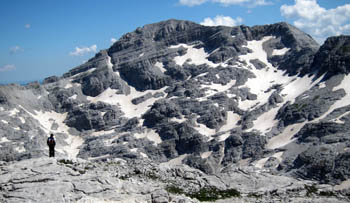 Jezerce seen from Maja e Popluks
Africa
Get an idea of the best mountain hikes and climbs in Eastern and Southern Africa (Uganda, Tanzania, Rwanda, Kenya and Malawi). Stories from adventures in the fabled Mountains of the Moon, the Virunga Volcanoes in Rwanda, a climb of Ol Doinyo Lengai - the most active volcano in the Rift Valley and one of the most active volcanoes in Africa. Visit Mount Elgon, Mount Meru, Kilimanjaro and Mount Mulanje in Malawi.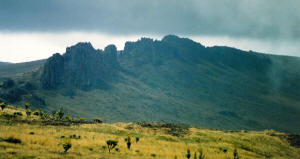 Satima - the highest point in the Aberdare Mountains in Kenya
Mexico
Mexico's volcanoes are the highest mountains on the North American continent. They offer anything from rock to ice climbs. Most can be easily reached from Mexico City. Read on about Pico de Orizaba, Iztaccihuatl, Nevado de Toluca, La Malinche, Ajusco and Paricutin.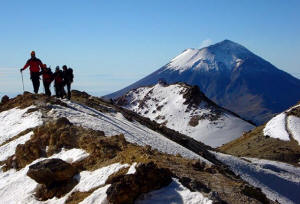 Climbing Izta - in the background Popocatepetl
USA
A collection of our best hikes, climbs and backpacks in the USA, done betwen 2002 and 2008. So far our most extensive website, brimming with information. Covering climbs in the Cascade Mountains near the Pacific Coast, Rocky Mountains in Colorado, and the best of all East Coast hikes and climbs from Maine to Virgina. Climb icey volcanoes, visit vast National Parks, bushwack through the Adirondacks, or enjoy tons of day-hikes right in the vicinity of New York City.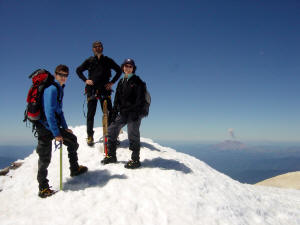 On top of Mt. Adams, in the background smoking Mt. Helens
The Caucasus
Azerbaijan: In April 2013, we briefly visited Azerbaijan, and took 2 extra days to visit the 5000 year-old village of Xinaliq (though our hopes to climb higher mountains were thwarted by inclement weather). We then also used the time to visit two geological phenomena: Mud and Candy. Then, but also in December 2015, we spend a few days in Baku.
Armenia: In October 2014, we went to Yerevan. We knew it would be late in the season, but wanted to give Azdahak mountain a try. See for yourself.
But then, Armenia is very much a hiking destination. And even if without exhausting yourself, you still can visit an endless number of churches or monastries, all of them similar but then also unique. And if you happen to be in Dilijan - which is also good for exploring monasteries, why not taking some extra time for hiking in the Parz Lich area?
Yerevan in itself is worth the trip, and you may do some exercise at the Yerevan Cascade.
Georgia: In November 2014, we had a few days to spare in Georgia. November is out-of-season, but the Monastery Hike in David Gareja is splendid at any time of the year. We also visited the cave dwellings in Uplistsikhe. And Tbilisi is certainly a must-see-capital.
Central Asia
Turkmenistan: The Door to Hell is one of the most impressive sites in Turkmenistan, and some say its one of the 10 things that one has to see in the world! And while in Ashgabat, do not miss the Saglyk Yoly - The Trail of Health. A nice excursion from Ashgabat is Köw Ata, an underground lake, where the area also offers some hiking possibilities.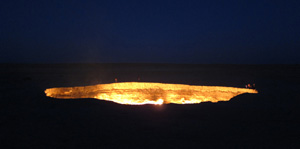 The Door to Hell
Tajikistan: We were in Tajikistan in early November, which is too late for hiking the ral dramatic mountains. But we managed some short hikes near Dushanbe. The first is near the village of Dara, and the other start in the Varzob Valley. We then visited Iskanderkul (Alexander's Lake - in reference to Alexander the Great). It is the touristic hotspot in Tajikistan, and stunningly beautiful, not in only in November. Next was an excursion into the Zerafshan Valley, which has some old mausoleums and interesting sights. We then continued across the Shariston pass and tunnel to Istaravshan, a large und not very remarkable city except for its attractive market and old city. Khujand is a major metropole in the north, arguably the wealthiest and most developed region of Tajikistan. Finally the journey took us back over Shariston and Anzob psses and tunnels - this time in heavy snow - back to Dushanbe, where we managed to squeeze in visit to Hisor.
Kyrgyzstan: Some impressions of a four day trip around Lake Issyk-Kul, taking in the vistas, some interesting sites, and a little hiking. Kyrgyzstan is a photographer's dream!
Kazakhstan: Winter is not the recommended time to visit Astana, but sometimes you can't help it.
Belarus (Weissrussland):
We were in Belarus for work in September 2014, and were very surprised. Not exactly a mountaineer's destination (the highest point is less then 350 meter high), Belarus has much to offer in terms of sights and parks - including Byelovezhskaya Puscha, said to be the largest primeval woods in Europe. Not to miss also the War Memorial in Brest.
The castles of Mir and Neshvish are well maintained and presented, as many other sights in Belarus. (Belarus)
The Balkans
Montenegro is trying hard to become the adventure capital of Europe. Many hikes and climbs are well marked and signposted. Rumija Mountain (1589) can climbed very nicely from a base in Albania. A hike from (about) Sveti Stefan, near Budvar to Ogradenica, a chapel and mountain escarpment can be done easily in Winter. With a base in Budva, it is also tempting to hike Goli Vrh (1087 Meter), which provides wonderful views acroos the Montenegro coast. From nearby Petrovac, you may plan to hike Kosmas (881 Meter) or venture to the somehwat lower but cliffy Strimnja (852 Meter). Radostak (1446 meter) is near Herceg Novi, at the bay of Kotorska.
The Biogradska Gora National Park is one of the oldest in Europe, and offers many hiking and leisure opportunities (including restaurants and cabins for spending the night). Treskavac (2014 meter) in the Kučka krajina mountains is very close to Albania Border and near the better know Stitan and Surdup peaks. The easiest of the three Komovi peaks, Kom Vasojevicki (2461 meter) was also our goal, but we had to try twice as the weather did not oblige the first time. For good measure, we also did a circular route around all three Komovi peaks (strictly speaking, there are five) - along but also very worthy trip.
Croatia - mainly known for its beautiful coast and destination for sunseekers, is also a country of hikers. In fall 2014, while heading from Albania to Zagreb, we couldn't but climbing Dinara Mountain (1833 Meter), which is the highest mountain in Croatia and - presumably gave the Dinaric Alps their name.
Later, while heading towards Belgrade, we had a day to explore the Papuk National Reserve, and hiked Ivacka Glava, the highest point (921 Meter) in the park open to hikers.
Greece - on the mainland - has more than the Olymp for the hiking enthusiast. We spent some time, in spring 2010, on the Pilion Peninsula, doing several beautiful hikes. End of March provided us with cool weather (and many closed restaurants) and beautiful vistas towards the snow-covered mountain ranges of mainland Greece. We relied on the excellent descriptions and maps provided on www.pilionwalks.com - highly recommended.
Western Europe
Die Eifel
There are also many hiking opportunities in our homeland, the Eifel. The Hohe Venn straddles the border between Germany and Belgium, and is part of the Ardennes and the Eifel highlands.We are now building up a collection of our favorite trails.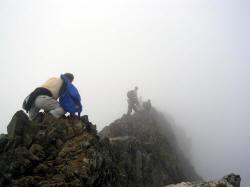 Traversing the Crib Goch Ridge on Snowdon