back to hikes and climbs back to Locations and Travel
The Door to Hell - Darwaza Crater


Summary: The Karakum desert forms much of the landmass of Turkmenistan. Few people travel to Turkmenistan. Most people connect images of camels with the African Sahel zone or the outback of Australia. In the Karakum, wide areas of fine sand or rock without vegetation give way to steppe with sparse grass, where few black goats try to find food. Further out only camels have a chance.
In the heart of the Karakum is the Darvaza Crater, also dubbed as the Door to Hell. The crater is the result of a gas leak from an abandoned drilling site. As people were concerned about the poisonous gas, they set it on fire, assuming it would burn out in a couple of hours. It has been burning for 40 years.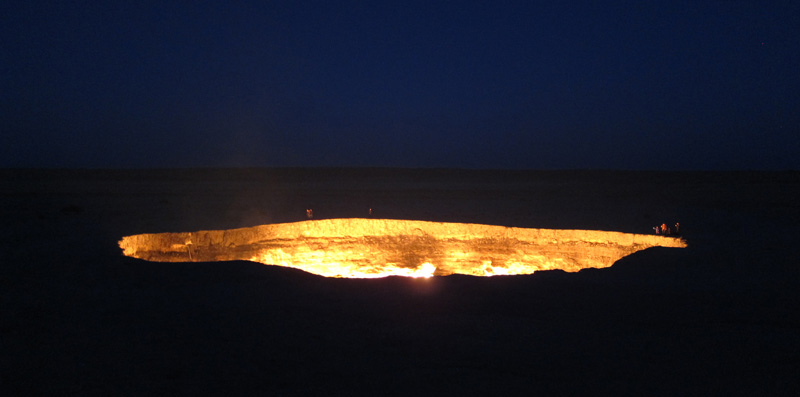 Click on the image to see a video
At weekends there are usually visitors. Very few seem to stay the night, though it is a worthwhile thing to do. As the sun goes, and darkness comes, and then dawn again, the colours change dramatically every minute. Nightfall brings an unearthly glow, a true subterranean fire-work, pun intended. Plan to set the alarm for a few times and before sunrise in order to catch the early cold light. This is the moment to walk over to the southeastern hill top
We camped nearby and had our picnic ready from the box. In late October, evenings become very cold, near freezing temperatures, especially in cloudless nights. Bring your own firewood, as there is no vegetation nearby. Salted lard on rye bread was a welcome treat, together with soup from chicken that we had bought on our way, while we were waiting for dusk and darkness.
The South-North connector asphalt road from Ashgabat to Derweze (where you leave the asphalt) is okay. Only the access road to the crater may require some 4x4 traction or less air in the tyres.
The hike to the nearby hill:
Maximum altitude:
156 meter
Minimum altitude:
111 meter
Cumulative height:
46 meter
Cumulative length:
700 meter
Difficulty
easy
Time:
20 minutes hour
Date of this record
October 2014

Download GPS info:

Darvaza
General location and approach: Turkmenistan. Ashgabat can be reached by air.
Other Information: Turkmenistan is still very much closed to visitors. For a visa, one needs a letter of invitation. Some travel agencies may be able to arrange this, for certain areas. Some areas of Turkmenistan are closed to visitors. Internet is difficult to get, and facebook and youtube are not accessible from Turkmenistan.
It is currently not possible to rent a vehicle in Turkmenistan, unless you hire a driver.
GPS and trailmaps: The map and trailinformation is generated by

, based on GPS information collected from the actual hike. Waypoints can be downloaded to a GPS device from Wikiloc. If necessary, use GPSBabel to convert GPS data to different formats. For more hike descriptions by Palmtreetreeproduction, browse this website or visit Wikiloc and search for "Palmtreeproduction". You may also find nearby trails from other authors.
Google Earth: You may also view the trail in 3D by clicking "view in Google Earth" when on Wikiloc. You need to have Google Earth installed on your computer.