back to hikes and climbs back to Locations and Travel
Istaravshan Walk

Summary: Istaravshan is one of the oldest settlements in Central Asia. With a history spanning more than 2 millennia, Istaravshan gives the visitor a taste of the real Silk Road, minus the tourists.
The city was founded in the 6th century BC. In the centuries that followed, riches flowed into the city and elaborate palaces were built. Alexander the Great conquered it, but had to leave again. It also caught the envious eye of Genghis Khan who razed it to the ground in the 13th century. The settlement lived a second golden age, until the 16th century, when trade started bypassing Istaravshan (then called Ura-Tyube, and still called this on Google Earth) for Bokhara. By the end of the 19th century, Istaravshan reportedly had 68 mosques, 16 karavan serais, 5 oil mills, 7 mills, 7 bathhouses and many bazaars.
The best views over Istaravshan are to be had from Mug Tepe, an old fort visible from afar.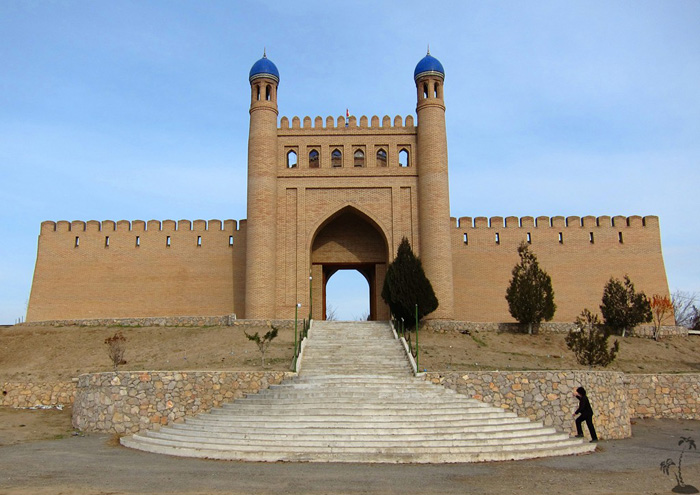 We then did a walk around old city starting from the Khazrat-i-Shokh mausoleum. It is the last resting place of Khazrat-i-Shokh, the brother of Kusam ibn Abbas who was in turn the cousin of the Prophet Mohammed. It has very nicely painted ceilings and an interesting Minaret nearby.
The clean narrow lanes of the old city are lined by walled houses with low gates and doors. In the middle of the street runs a narrow shallow water drainage channel.
Children played at the 16th century Kok Gumbaz Madrassah, also known as the Abdulatif Sultan mosque, with its huge blue-tiled roof.
| | |
| --- | --- |
| Maximum altitude: | 1019 meter |
| Minimum altitude: | 992 meter |
| Cumulative height: | 22 meter |
| Cumulative length: | 2.8 kilometer roundtrip |
| Difficulty | easy |
| Time: | 2 hours |
| Date of this record | November 2014 |
| Download GPS info: | Istaravshan |
| | |
| | |
| | |
| | |
| | |
| | |
| | |
| | |
General location and approach: In the Ferghana Valley in northern Tajikistan; on the way to Khujand.
Other Information: n/a.
GPS and trailmaps: The map and trailinformation is generated by

, based on GPS information collected from the actual hike. Waypoints can be downloaded to a GPS device from Wikiloc. If necessary, use GPSBabel to convert GPS data to different formats. For more hike descriptions by Palmtreetreeproduction, browse this website or visit Wikiloc and search for "Palmtreeproduction". You may also find nearby trails from other authors.
Google Earth: You may also view the trail in 3D by clicking "view in Google Earth" when on Wikiloc. You need to have Google Earth installed on your computer.