back to hikes and climbs back to Locations and Travel
To Iskanderkul and Sarytag - Tajikistan
Summary: Iskanderkul - meaning Alexander Lake - is one of the most popular tourist sites in Tajikistan. Its setting is nothing short of stunning, though touristic infrastructure is basic.
Iskanderkul is the base for exploring the Fan Mountains, and most excursions would start from either Iskanderkul or from the north near Penjikent.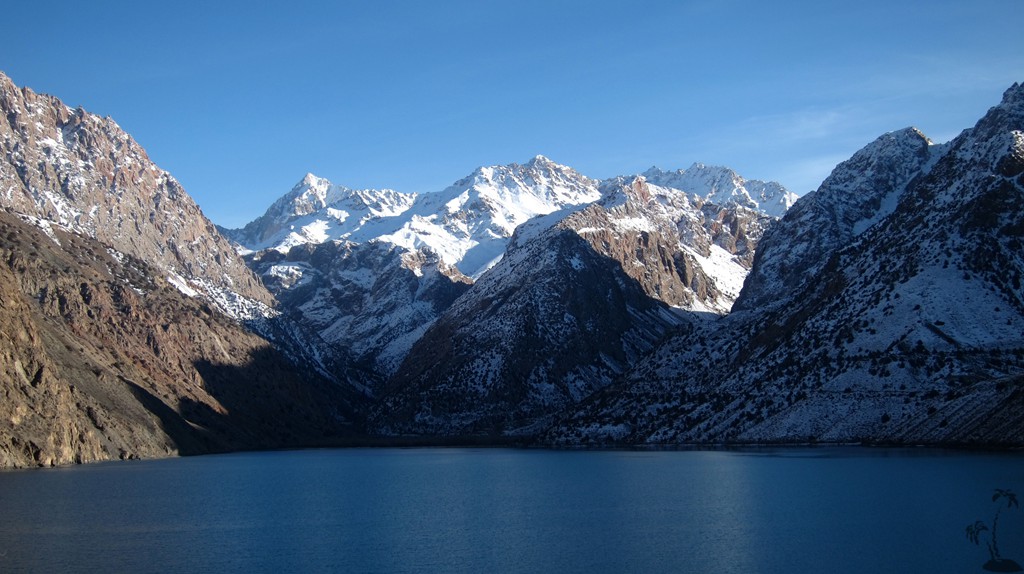 We were there in November, too late for any serious hikes. At that time of the year, not many people live near Iskanderskul, though some hardy villagers still hold out in Sarytag, which is up in the mountains beyond Iskanderkul. We had planned to overnight in Sarytag, to possibly undertake a short exploration of the area. Sarytag has a guesthouse in summer, though it was boarded up for winter. We politely declined invitations to stay in a home as it was bitterly cold and we didn't feel like sleeping on carpet.
Iskanderkul is reached from Dushanbe via the highway M34 going north. The highway is in principle in good condition, built for heavy trucks and reasonably maintained. Except for the notorious Anzob tunnel, also dubbed as the tunnel of fear, or even the tunnel of death. The tunnel - at an altitude of 2720 meter - was inaugurated in 2007, but construction never stopped. Even now it resembles a badly organized 5 kilometer long construction site. It is virtually dark, except for the blinding headlights of oncoming traffic that tries to weave its way through water-filled potholes that can swallow a car, construction materials, parked vehicles and machinery, and workmen who appear out of the thick dust. Having said all this, the tunnel is manageable with care, but certainly not recommended for bicycles - those should better try to hitch a lift, which is what according to the blogosphere most riders actually do.
In Zerafshan, one leaves the highway for the road to Iskanderkul. It is a reasonably well maintained and a spectacular dirt road, leading high past deep gorges with blue waters. Short stretches can be exposed with steep gradients. In November the road was mostly free of ice, but would soon be closed.
The road seems to end in Iskanderkul, at a barrier for a national park. For a fee one is allowed to continue around the lake. There are some basic camping resorts along the shore. Eventually, at the other end of the Lake, the road to Sarytag begins. There is a regular road and a shortcut. At this time of the year, the shortcut (right at the fork) was the better option, as it follows the south-facing side of the valley and was free of snow and ice. We could see that the regular road, at the opposite side of the valley, was much less exposed with only modest gradients, but portions would not see the sun for several months and would probably not be passable in winter and spring.
With our hopes for a stay in a guesthouse dashed upon arrival, we decided to head for Aini - the next major village back on the M34 in northern direction. Aini is a rather drab place, with only doubtful accomodation and limited food supplies, but given the rather remote location one may not have many options.
| | |
| --- | --- |
| Maximum altitude: | 2721 meter |
| Minimum altitude: | 1690 meter |
| Cumulative height: | 1319 meter |
| Cumulative length: | 65 kilometer one way |
| Difficulty | moderate |
| Time: | 2 hours |
| Date of this record | November 2014 |
| Download GPS info: | Sarytag |
| | |
| | |
| | |
| | |
| | |
| | |
| | |
| | |
General location and approach: North of Dushanbe. Follow the M3 through Varzob and across Anzob.
Other Information: Conditions may be more favorable in summer.
GPS and trailmaps: The map and trailinformation is generated by

, based on GPS information collected from the actual hike. Waypoints can be downloaded to a GPS device from Wikiloc. If necessary, use GPSBabel to convert GPS data to different formats. For more hike descriptions by Palmtreetreeproduction, browse this website or visit Wikiloc and search for "Palmtreeproduction". You may also find nearby trails from other authors.
Google Earth: You may also view the trail in 3D by clicking "view in Google Earth" when on Wikiloc. You need to have Google Earth installed on your computer.