Climbing Mexico's Volcanoes
Mexico's volcanoes provide challenging climbs for every taste. The exact altitude of any Mexican peak is anybody's guess - variations on maps and guide books easily span 100 meters or 300 feet. Whatever the measurement, Pico De Orizaba (5610 to 5700 meter) is undisputedly the 3rd-highest mountain in North America. It is not considered to be technically difficult, but it requires good preparation, good acclimatization, some essential gear and considerable will-power. Orizaba is not a "walk in the park" - certainly not for most of us!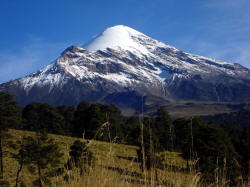 Pico de Orizaba
Also Iztaccíhuatl is higher than the Alps or any mountain in the contiguous United States. It is Mexico's third highest mountain with 5220 Meter, behind Popcatepetl which cannot be climbed because of ongoing volcanic activity. Izta resembles a sleeping lady, and it is a long way from the bottom of her feet, over the knees and belly to the top of her breast...

Nevado de Toluca has an elevation of 4577. The so far authoritative guidebook on Mexcian volcanoes, by R.J. Secor, seems to have overestimated the elevation of Nevado de Toluca by at least 100 meter, or 330 feet. Several websites (including summitpost.org) seem to have repeated this error. It is definitely the fourth highest mountain in Mexico, close to the city of Toluca and Mexico City. Non-mountaineers can drive into into the crater at 4000 meter. However, this does not take away from the beauty of this climb, regardless the number of cars and people that might be driven into the crater (which often is also referred to as the top of the mountain). But the attainment of the real summit is something else...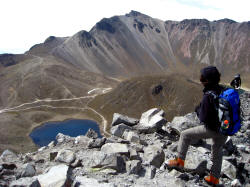 The crater of Nevado de Toluca
La Malinche is the standard acclimatization hike for the higher volcanoes. About 4464 meter high, it is a beautiful hike with the benefit of a good base camp. La Malinche is the must-do acclimatization hike for all Pico de Orizaba aspirants. But it is also a popular destination in itself. It has a relatively comfortable mountain-rest camp, complete with restaurants and grocery, and does not require much else except some prior acclimatization and determination.It nevertheless can be very demanding, especially when not yet adjusted to the altitude.

Mount Ajusco can be climbed as a day trip from Mexico City. It is about 3950 Meter high. A fine opportunity to escape the smog of the city, and gain some spectacular views of the high volcanoes.

Nearby the city of Uruapan lies Paricutin one of the youngest volcanoes in the world. It erupted first in 1943, in the middle of a farming field, and over several years its cone grew to more than 424 meters high above its surroundings. More than 4,000 people had to flee their homes, but nobody was killed, though several villages were buried in the 25 square kilometers large lava fields, including a now half-covered church. Paricutin might not be memorably high, but is a first-class hiking destination.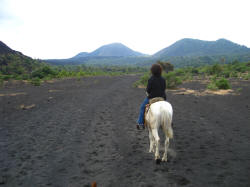 Approaching Paricutin on horseback
Mexico Climb 2007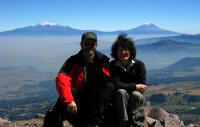 Gabi and Detlef with
Izta and Popocatepetl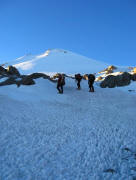 Early morning on Prico de Orizaba
Also visit the Mexico travel page for the cultural and architectoral sites of Mexico