back to Albania site back to hikes and climbs back to Locations and Travel
Mali i Stugarës

Summary: We went to Mali i Stugarës, we climbed it in March, we had a good time and enjoyed it. But it was only after we continued our way towards Kakavije, that we realized how beautiful Mali i Stugares is.
Mali i Stugares is the second highest summit in the mountain range separating Greece and Albania between Sarande and Kakavije border controls. With 1771 Meter, it is about 35 Meters lower than Mourgana. More to its disadvantage, it is almost invisible from Albania, unless you really get close. The best view of Stugares is to be had from the (difficult) road from Leshnice to Kakavije. See below: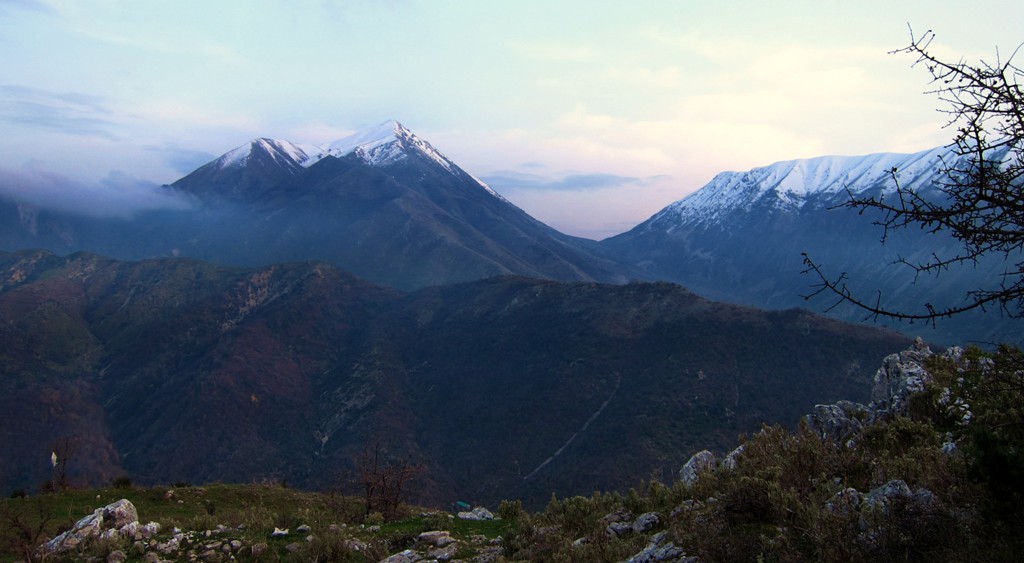 The Hike: The hike starts in the village of Kocat, near Leshnicë. Most villages in the area are almost deserted, though there always seem to be some families determined to stay, and even invest. The trail leads on a good path into the saddle between Mali i Stugares and Mali i Shendenikut. There is a road from Greece coming close to this pass. From here, follow faint tracks more or less straight up to the summit, more or less along the (invisible) border to Greece.
Maximum altitude:
1771 meter
Minimum altitude:
663 meter
Cumulative height:
1120 meter
Cumulative length:
5.13 kilometer
Difficulty
moderate
Time:
4.5 hours
Date of this record
March 2014

Download GPS info:

Stugares
Drive to the Trailhead of Mali i Stugares: The aim is to reach the village of Kocat. This can be done from Sarande. Up to the village of Dhiver is asphalt. From there, a reasonable dirt track leads to Leshnicë. In Leshnice, cross a river and follow a track to Kocat, where the road ends.
Back at the ford, continue the road to Leshnice e Siperme. According to old maps, the road ends here. A new track has been established a few years ago, but from waypoint 05 up to the first pass at waypoint 07, the road is in poor condition due to erosion. A rather uncomfortable spot is near waypoint 06, where the road goes over a bump (so you don't see where you are going), makes a sharp turn with a steep gradient, along a precipitous drop, all at the same time. After waypoint 07, you can relax, as the road is in reasonable condition, though it is still a long way to Kakavije.
Maximum altitude:
925 meter
Minimum altitude:
15 meter
Cumulative height:
1498 meter
Cumulative length:
48 kilometer
Difficulty
moderate, with some exposure
Time:
4 hours
Date of this record
March 2014

Download GPS info:

Sarande to Kakavije
General location and approach: South of the Sarande - Kakavije asphalt road.
Other Information: This is a remote and largely uninhabited area.
GPS and trailmaps:
The map and trailinformation is generated by

, based on GPS information collected from the actual hike. Waypoints can be downloaded to a GPS device from Wikiloc. If necessary, use
GPSBabel
to convert GPS data to different formats. For more hike descriptions by Palmtreetreeproduction, browse this website or visit Wikiloc and search for "Palmtreeproduction". You may also find nearby trails from other authors.
Google Earth: You may also view the trail in 3D by clicking "view in Google Earth" when on Wikiloc. You need to have Google Earth installed on your computer.