The Concept Expedition Truck
Or how to build your own overland family truck for off-road adventures in Africa and elsewhere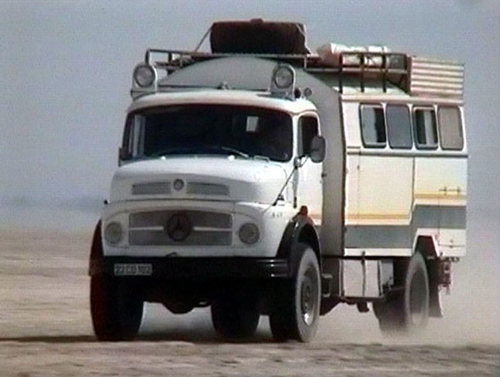 click here or on the picture to see the truck in action
What do you expect from an expedition truck? We thought it must: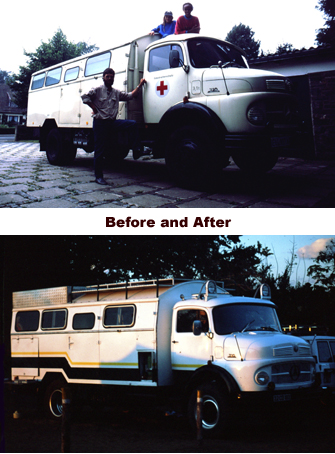 have all-wheel drive to go anywhere
sleep six people in comfort
have a kitchen with sink and stove
have a water tank and running water
have a big diesel tank for an extended driving range
be comfortable for driver and passengers
have space and immediate easy access for camping chairs and table
have a horn that blows the kudus from the roads
have off-road recovery gear
have a lot off other things
The goals was to enjoy a hot cup of tea 2 minutes after turning off the engine, without lifting heavy boxes or getting stressed out. Importantly, we didn't want to set up tents or camping gear before going to bed - which should be as comfortable as our beds at home. After all, why would anybody want to sleep miserably during prime-time vacation?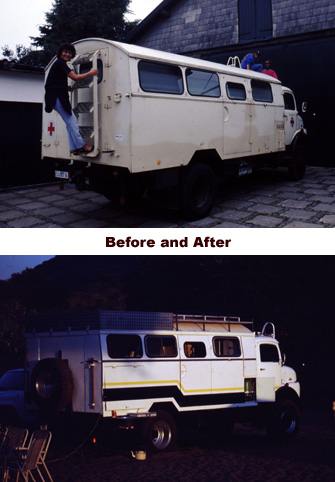 Acquire from an auction or your local army-truck dealer an old Disaster-Relief or Red-Cross Truck in a European country, preferably from a reliable brand.
Look for one with all-wheel drive, a usable cabin and body, and low mileage.
The pictured 1964 Mercedes Benz all-wheel truck had only made 20,000 kilometers, came with a lot of goodies and was available for 4,500 USD. If you live overseas, take it for a spin to the next seaport and ship it to your country of residence. We bought our truck in Germany, shipped it to South Africa, drove it to Malawi and modified it there.
I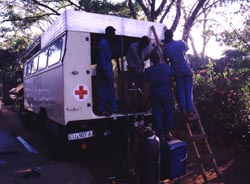 t might be a good idea to exchange the usual twin rear wheels with single "floating" tires, for more riding comfort. Truck spare tires are often mounted underneath the body, but you might need this space for water and fuel tanks. Instead, mount your spare wheel at the rear of the vehicle - it also keeps it in somewhat better shape in case you were forced to negotiate muddy conditions.
Before cutting up the body, consider the following: In tropical climates, you want to spend all your time outside - except for sleeping and during driving.
Therefore, you want to cook outside - in fact you often want to combine an open fire barbecue with another meal cooked on a stove. The kitchen, therefore, must be accessible from outside the vehicle, preferably with a pull-out sink. Click here to see a movie-clip of the kitchen.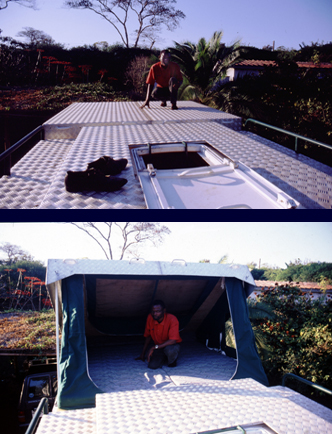 You also want to have plenty of cargo room, accessible from outside. Click here for a view of the type of access doors we had on our truck. For instance, your camping chairs and table should be in easy reach, so you can have a lunch break wherever you are.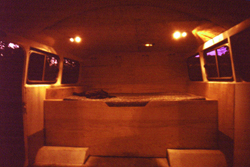 Similarly, your water tank, your drinks and your barbecue grid should be accessible from the outside. This also includes storage for your most strategic tools in case of a breakdown or a flat tire. Click here for a movie clip about repairs on our Mercedes Benz. Don't plan for a lot of cupboards or storage inside the vehicle, but you may still want a hand wash basin or little "bath" inside the truck, when you camp on a public place.
In tropical climates, any special insulation - as used in European or North America - is not necessary. Instead, opt for plenty of windows for better air circulation, with removable mosquito netting. Also, consider a "second roof" to keep the direct sunshine and the heat away from your truck. Old-type Landrovers used to have this kind of "tropicalized" second roof.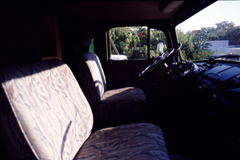 We had our own special roof construction. With the roof tent folded down, the roof became a flat game-viewing platform, accessible through the manhole from the interior of the truck. Click to have a peek on how many people had space on our rooftop. There is still ample place to store sand ladders, spare tires, firewood or else. Supported with hydraulic telescopic arms, the roof tent can be pulled up easily, and provides access to a bed, 2.0 by 2.4 meter.
Another king-size bed was permanently installed inside the truck, seen in the picture, before the passenger seats got installed.
We cut a door to connect the driver's cabin to the rear body. Considering the time spent driving, it's worthwhile to make the cabin as comfortable as possible, including some additional noise-insulation, better seats (from the scrap yard), cupholders and pleasing upholstery. We eventually opted for Kudu leather...
Finally, here a picture of our truck, with the roof tent up, the kitchen flap open, and the camping gear out, all within 5 minutes after switching off the engine, and in the splendid isolation of Kubu Island in Botswana!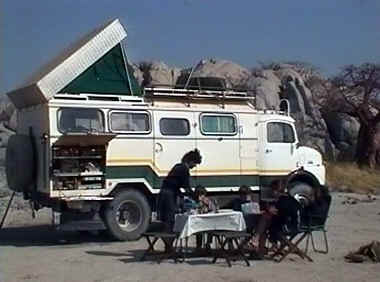 Also available: Full length feature film (PAL) on VHS or DVD (50 minutes):
The Amazing Max: Traveling through Africa in the Expedition Truck
for more information, or any comments, send us an email.