Welcome to Palm Tree Productions
We are sharing some of our stories, pictures, thoughts, movies and other ideas. This is a website for both the active and the arm-chair traveler. There is much to explore.
Adventure. Locations. Mountains. Exercise. Also Mental Exercise
Adventure can be had everywhere. You don't need to travel high or far, though it certainly helps. There is adventure at work, at home, in the kitchen, and even on the commuter train. As Johann Wolfgang von Goethe said: Travelling is interesting, because even the ordinary, due to its novelty and surprise effect, can take the guise of adventure.
The Hikes and Climbs page depicts the more strenuous side of travel adventure. We have picture stories from mountain climbs and hikes in Uganda, Kenya, Tanzania, Malawi, on the soaring volcanoes of Mexico, in Switzerland and the USA, Albania, Montenegro, Croatia and the rest of the Balkans, and now the Eifel. The USA is heavily represented, including stories of many 14,000 footers in Colorado and some icy peaks in the Cascades of Washington State. There is also plenty of advice for the weekend hiker - or the mountaineer with a couple of days to spare - on what to do in the vicinity of New York or Tirana.
The travel page collects stories and pictures from locations around the world, where our work or private interest has taken us. There is some bias towards travel in the USA - and New York, for we lived there when the digital age finally became the household stuff. While living in New York, we were lucky to visit Vietnam, Mexico, Bhutan, Egypt, the Virgin Islands and some European locations. Now there is more about Albania, Montenegro, Croatia, Macedonia, Belarus, Bulgaria, Greece, Armenia, and Turkmenistan and Kyrgyzstan. There is also a short story on "how to build your go-anywhere expedition truck", which we built and used in eastern and southern Africa, where we lived for many years. There is also lots of stuff for the "offroad enthusiast".
We moved to Albania in 2009 and continue to build a site with as much as useful information about hikes, climbs, off-road drives and other adventures as we manage to explore. Albania is no longer the great mystery that it was, but certainly a challenging first class destination for the intrepid traveller. Where possible, we provide links to interesting or useful resource material. including Google maps, GPS trail data and other information, so you don't get lost.
A documentary on work and life for Operation Lifeline Sudan gives some insights into the workings of UNICEF and the United Nations in the rebel-held areas of Southern Sudan, during the civil war that raged there in the early nineties.
The "Train-Thoughts" are a collection of adventurous thoughts about work and reform in the United Nations. They were written as a weekly blog, before blogs became a fad, over the period of more than two years, during the commute to and from Manhattan.
The Clips Page is showing Palm Tree Productions' best. Check it out for the latest and hottest clips under the Palm Tree Logo. Now on YouTube.
The Family page is for our family and closest friends, as a forum to keep in touch. You may or may not have access to it.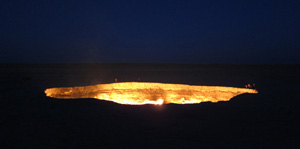 Darvaza Crater in Turkmenistan
Some of the recently added pages:
3 Wildbäche und gefühlte 100 Brücken, 13.2 Kilometer (Belgium)
Brotpfad und die Ahrquelle, 16 Kilometer (Germany)
Mariawald im Herbst, 11.6 Kilometer (Germany)
Vogelsang und Urfttalsperre, 14.2 Kilometer (Germany)
Die Leytour - Monschauer Höhepunkte, 19.2 Kilometer (Germany)
Vom Rurtal zum Steling, 14.2 Kilometer (Germany)
Crime Scene auf dem Steinert, 12.3 Kilometer (Germany)
Teufelsschlucht, bei Irrel, Südeifel, (Germany)
Share The Adventure! Or Your Thoughts.
Let us know what you think. Or any comments. Send us an email.